Illinois Amish Furniture
- Dining Room
We're talking tables and chairs. Solid wood ones that will l
ast a lifetime and more. Round tables, squares and rectangles, ovals, built-ins and custom shapes. Any size from 24x36 up to 20 foot long or more. Add leaves in any amount and any size to easily go from everyday to the family holiday gathering. You are not limited to certain sizes or shape either. We will make a table for you, your way.

Did we say "solid wood?"
Why settle for veneers and particleboard just to have a brand name table?
In Illinois Amish Country our craftsmen work ONLY with whole lumber to make our tables. Our table tops are usually 5/4 stock, and occasionally thicker for special orders.
Stain color choice? Why settle for a color off the showroom floor? When it comes to colors, as with our other made to order furniture, we have a very large selection of color sample blocks in our store to select from,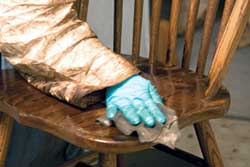 PLUS we have access to a local Arthur stain shop that will mix any color match we need. We can, and often do, easily match colors from other parts of your home such as trims, other furniture, or other vendors pictures.
Since we will be making your table as a "one-off" just for you, we hope you'll plan ahead and visit or contact us early enough. Our custom Amish table and chair sets take about 12 weeks to create for you.

All this now said, take a look at our samples and pictures for ideas. Remember. you are not limited to what you see here. If you do not see a style that is close, send us a sketch, drawing or doodle and we can begin there. If you have seen an item elsewhere, let us know how we can see it and we'll draw up the plans from there.